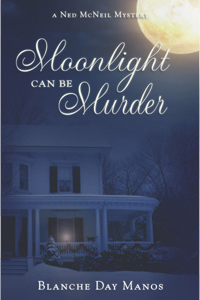 ISBN: 978-1-942428-56-5
Available at






190 pages
$12.97 in softcover
$4.97 in ebooks


Find Blanche at:
her website or
on Facebook.

Moonlight Can Be Murder

~ A Ned McNeil Mystery ~

by Blanche Day Manos
Nettie "Ned" McNeil cannot imagine why her Uncle Javin feels that he is in danger, but she loads her suitcases into her car, leaves Atlanta and her late husband, and makes the long trek to Ednalee, Oklahoma, to help out. When she arrives, Uncle Javin's white Victorian house is strangely dark and silent. Inside she finds him lying on the floor in a pool of blood.
So begin her first moments back in her old home town, where the mystery of Uncle Javin's violent death pulls at Ned. But his mysterious murderer seems to always be just a few steps ahead of her search. How can she protect her own life as she pursues a killer who will stop at nothing to guard a deadly secret?

Praise for Moonlight Can Be Murder

Frightfully spooky!
~ Mignon Ballard, author of the Miss Dimple Mysteries

Blanche Manos has another great series going with Moonlight Can Be Murder. You'll feel the cold of the snow, the warmth of friendship, and the chill of death threats as Ned tries to unravel mysteries of today and yesteryear at the same time. There are plenty of plot twists, interesting characters, troublesome characters and allies. I look forward to reading the next.
~ Ronda Del Boccio, Amazon Best Selling Author, WriteonPurpose.com

Breathtaking . . . can't put it down . . . spellbinding. All of the cliches apply to this story of suspense, with an abundance of possible villains to keep you guessing. Written so that you feel like you are there and with characters that make you wish you could know them personally, this is a great story!
~ Judy Lewis, editor at New Leaf Publishing

Moonlight Can Be Murder is intriguing to the very end. Blanche Day Manos is masterful in describing the scenes for the intricate plot twists, It's a great cozy mystery that opens the new "Ned McNeil" series and makes you wonder what will happen next.
~ Nancy Kay Grace, author of The Grace Impact
Wow is the only thing I can think to say about this great book Moonlight Can Be Murder, A Ned McNeil Mystery by Blanche Day Manos. I loved this book and I can not wait until the next one comes out.
This is an intense and at times emotional mystery. I could not put it down. If you like a good mystery, that keeps you on the edge of your seat and one that is full of possibilities and suspects then do not miss this book.
Don't miss this great, spooky, intense, wonderful book. I highly recommend it.
~ Deb Forbes at Mystery Reading Nook

Click here to see all the reviews for Moonlight Can Be Murder!

Check out this trailer for Moonlight Can Be Murder on YouTube!
Coming in Fall 2016: the 2nd Ned McNeil Mystery!
---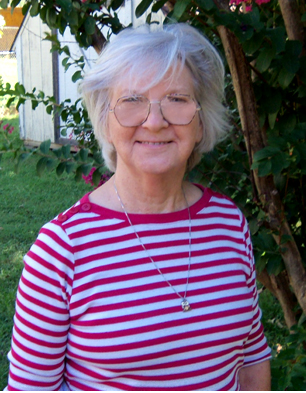 It may seem strange to some that a mild-mannered kindergarten teacher would become an author of cozy mysteries, but it's actually a good fit. A teacher is a word crafter. So is a writer. A teacher wants the efforts of her labor to have a positive outcome. So does a writer. A teacher prays and hopes that each student has a positive take-away from her work. A writer hopes that for her readers too. A teacher would like each of the children in her classroom to achieve a satisfying life. Although she can't control that, as a writer she can control the way her books conclude!
A native Oklahoman, Blanche has a deep familiarity with the Sooner state, so it's the logical setting for her books. Her Cherokee heritage and feeling at home in the rural settings of Oklahoma are vividly woven into the background fabric of her books. Her other published cozies include The Cemetery Club, Grave Shift, and Best Left Buried; books one, two, and three in the Darcy & Flora cozy mysteries. Moonlight Can Be Murder is the first in her new series about Nettie "Ned" McNeil.