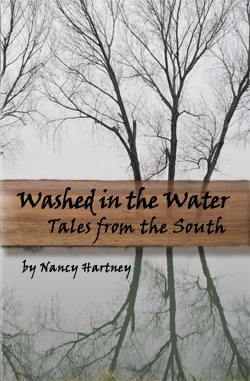 ISBN: 978-0-9851274-5-9
140 pages

$14.97 in softcover
$3.97 in Kindle

Also by
Nancy Hartney


Connect with Nancy

www.NancyHartney.com

Facebook

Twitter
Named 2014 Best Fiction Book of the Year
and winner of the President's Award
by the Ozarks Writer's League.


Washed in the Water:
Tales from the South

(For mature readers)

by Nancy Hartney



Washed in the Water: Tales from the South offers vignettes of folks living the best they know how as they reach out for redemption. Set between 1950 and 1980, each tale stares at an individual as unique as the humid landscape of the South. Hard lives, daily survival, and lessons about getting on with the business of living reverberate among the characters.


Praise for Washed in the Water

Pour yourself a glass of sweet tea and get ready for a journey into the deep south, where people live close to the land day by day. Nancy Hartney's descriptions are so vivid and compelling that you'll swat at the flies. These are excellent stories that I will re-read more than once. Hartney is for sure the voice of the south.
~ Ronda Del Boccio, Write On Purpose

". . . compelling, wide-ranging stories. Hartney brings to mind both Caldwell and Allison, but her voice at last is her own. 'Last Love' is both gritty and warm, and 'The Fig Trees' is deftly nuanced."
~ Robert Cochran, Center for Arkansas and Regional Studies, University of Arkansas

"This brief collection of stories deals with such diverse experiences as a river baptism and coon hunting while it embraces emotions of love, jealousy, and altruism. The seven southern tales contain some real gems."
~ Pat Carr, author of One Page at a Time and The Radiance of Fossils

"No better voice of the south can be found than Nancy Hartney, with her touching stories of life looked at in a most extraordinary way. Hartney writes about people we can love or despise, but most of all sympathize with and enjoy."
~ WILLA Award-winning author Velda Brotherton

"Nancy Hartney's debut collection Washed in the Water: Tales from the South is, with the exception of one story, "a gathering of women" that meanders like a slow, drunk river through the landscapes and religious and racial themes of the Old South. From lecherous preachers to lynchings to murderous backwoods bootleggers, Hartney chews on the violence and beauty inherent in communities from Georgia to Texas."
Read the rest of this review by C. A. LaRue at Deep South Magazine

"Washed in the Water is an insightful collection, and a delight to read. Hartney naturally, and precisely, captures the hardscrabble Southern voice, which made the characters, surroundings and culture so genuine, so authentic. Her descriptive style flows with the ease of honey over warm toast, painting mind images of place and personalities, while bringing life to the people struggling with their obstacles.
"I can't say I had a favorite among the stories, for each took me down a different road of message and meaning. Though if you pushed me, I'd probably give a slight nod to "Last Love" for it had me curious from start to finish, wanting to know more and what's next, and somehow drew to a natural close with a partial sense of justice.
"All in all, Hartney's grasp of the writing process is firm and steady, as is her succinctness with words says far more than their numbers would suggest."
~ David Pincus
---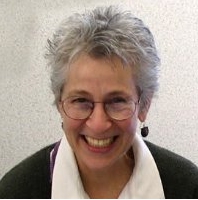 Nancy Hartney writes about the Deep South of today wrapped in yesterday's clothes. Her roots dig into the piney woods that she rode through on horseback, into the sweat-soaked hardscrabble farms, and into humid passionate nights. Her slice-of-life tales chronicle a time past that is poignant, vivid and sometimes brutal. The reader stares into the eyes of people struggling with living, grasping for understanding, doing the best they know how.
Nancy makes her home in Fayetteville, Arkansas. Washed in the Water: Tales from the South is her debut short story collection. Her website is http://nancyhartney.com.