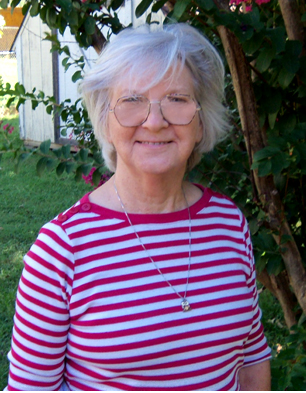 In her previous life, Blanche Day Manos was a kindergarten teacher, part-time writer of feature stories for a newspaper, and writer of stories and poems for children's and Christian magazines. Now, she lives in a bustling Arkansas town near her family. In between writing books, she enjoys painting and playing the piano.
Blanche specializes in clean mysteries that have middle-aged women protagonists with a tendency to become involved in strange and mysterious happenings in their hometowns.
Darcy Campbell, retired newspaper reporter, and her mother Flora Tucker, protagonists, can't stay out of trouble in Levi, Oklahoma. On the surface, this lovely town seems tranquil, filled with law-abiding and peaceful people. As Darcy and Flora discover, more is going on than meets the eye. The Cemetery Club, Grave Shift, Best Left Buried, and Grave Heritage follow these courageous women from one harrowing adventure to another.
The second series, the Ned McNeil Moonlight books, begins with Nettie Elizabeth McNeil returning to her hometown of Ednalee, looking forward to a reunion with her only living relative, her Uncle Javin. The reunion fails to happen and Ned, as her friends call her, discovers that she is involved in a web of lies and mysteries that have their origin in a murder that happened decades ago. Moonlight Can Be Murder indeed. More excitement takes place under a full moon in By the Fright of the Silvery Moon. The third Ned McNeil book, Moonstruck and Murderous, follows Ned and her two childhood friends into the mystery surrounding a 200-year-old house that is lovely to look at but is built around a deadly secret of its own.
Visit Blanche at:

Website and blog: www.BlancheDayManos.com

Facebook: BlancheDayManos.Author