WHAT IF . . .
What if Hardlyville is real? Really real?

What if an author can descend into her own creation and be greeted with open arms by the children of the creek? Ms. Randi Pflander, author (fictional) of the Ozarkian Folk Tales Trilogy as well as the Children of the Creek Trilogy, is about to find out.
Love, laughter, and hellbenders fill the void with hope and happiness as the Hardlyvillains' ever-resilient spirit rises to challenge after challenge.
Is existence a battle between good and evil or evil and itself? Hardlyvillains are about to find out. The rollicking, friendly, loving bunch nestled deep in the Ozarks have seen it all. But now they're up against something they've never had to deal with before: evil for its own sake.
The story of four old friends reuniting to contemplate their 60th birthdays turns into a marvelous, magical mystery tour with plenty of surprises and laughs along the way. An enchanting exploration of aging, art, philosophy, feminism, and motherhood, written with style and a heavy dose of humor. A Divine Comedy, indeed!
From the funhouse that's laughingly called Russell Gayer's brain come another 13 wonderful ventures into wackiness. Pack up your troubles and set them out the back door--there's no room for them in this nutty world.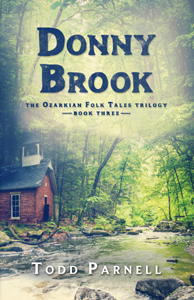 Who knows what lurks in the deep, dark corners of the Ozarks? Brutal murders, environmental disasters, corruption, and threats to their beloved and pristine Skunk Creek arise and upend the bucolic lives of the Hardlyvillains. How can they prevail?
Who knows what lurks in the deepest, darkest corners of the Ozarks? And what do a mammoth environmental disaster, a series of ghastly murders, corrupt state politics, a bedouin shivaree, crooked bankers, and Noodler's Anonymous have in common? Skunk Creek!
What do you get when you mix the beauty of nature, Big Pork, politics, and prejudice? Murder, lust, and greed overtake a small Ozarks community. Book One in the Ozarkian Tales Trilogy.
This book may not cure all the world's problems, but it is certain to provide hours of stress-free entertainment and laugh-out-loud moments. Even the most irritable funny bones will be tickled with delight. Learn the joys of being an underachiever, the dangers of donut abuse, and more.
"Both hilarious and touching, the madcap journey of an aging mother and her adult daughter from cold Protestant Canada into the hallucinogenic heart of Mexico's magic, where the past literally comes to life. Every page is a surprise . . . A scintillating read." Lewis Buzbee