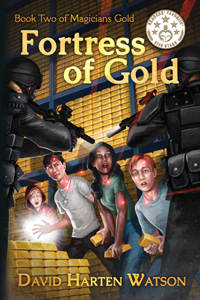 ISBN: 978-1-68313-135-9
422 pages

$16.97 in softcover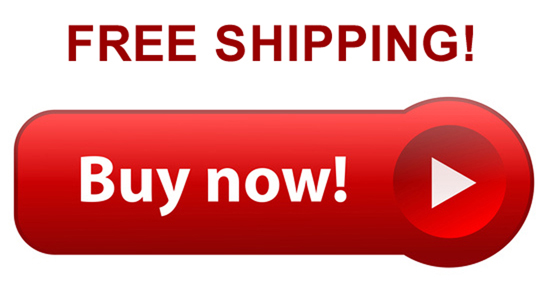 $4.97 in Kindle

Also by
David Harten Watson
Connect with David

www.DavidHartenWatson.com

Facebook

Goodreads
Fortress of Gold
~ Book Two in the Magicians Gold Series ~
by David Harten Watson
Enemy sorcerers destroyed the gold that powers white magic on Rados, leaving the Kingdom of Eldor defenseless. A prophecy said the only hope of restoring the gold was for sixteen-year-old Pran to travel to the mythical world called Earth with three companions: Jelal, a spy whose accident with an eternal youth spell at age twelve cursed him to remain that age forever; Pran's classmate Samir, who nearly killed Pran last week (but that was before they discovered they're cousins); and Vitina, the exotic enchantress Pran fell in love with at first sight.
They arrive on Earth in New Jersey, a foul-smelling place infested with millions of horseless carriages. The prophecy leads them to the family destined to be their native guides, but then their plans go awry. Although they brought diamonds to trade (knowing Earthlings consider those useless rocks valuable), they learn it's hard to trade diamonds the size of eggs for gold. The FBI believes they're international jewel thieves or diamond smugglers, Samir is captured, and the others must rescue him. Pran begins questioning whether his love for Vitina is real or, as she believes, a magical side effect. Adding to his confusion, Pran is torn between his feelings for Vitina and a new, totally unexpected love interest—another boy. The only way to get enough gold to save their kingdom is to pull off a daring daytime heist of the most heavily-guarded building on Earth!
And Jelal has secret orders to steal other items from Earth besides gold . . .
Praise for Fortress of Gold

Fortress of Gold is the second book in the Magicians Gold series by David Harten Watson. I had read the first book, Magic Teacher's Son, when it came out, and you can find my review of it here.
The story opens with our protagonist, Pran, leading an expedition from the land of Eldor to the legendary kingdom of Earth. Magicians on Eldor have been fighting a desperate battle against an invading army from Marakna, where death-fueled sorcery is commonplace. When the enemy steals all of the gold that is vital to powering their white magic, the Eldoreans are defenseless.
Pran travels with a group of friends: Jelal, an experienced spy who looks to be 12 years old as a result of a spell accident, Samir, a friend and cousin, and Vitina, an enchantress whom Pran has fallen suddenly in love with. This journey was foretold in a prophecy in Book 1, and I was excited to see how it would unfold.
The plot was interesting enough and there is some definite appeal in watching the characters fumble through the culture shock of earth... The action was entertaining and enjoyable.
A few new secondary characters arrive to help Pran's group, and I liked getting to know them. The main goal of the story turns this book into a heist tale, which was also fun. While magic can often be used to overcome any obstacle, the rules that the author has put in place in his story allows the heist to still be a significant challenge while imbuing creativity into the escapade.
~ Clare L. Deming, author of A Big Stabbity Bang and Princess Thirty-Nine

David Harten Watson explores complex relationships and layered characters in this delightful second adventure. Watson has a humorous and charming flip on the idea of characters in a strange new world, only this time, the new world is our own. They encounter a new language, horseless carriages, and the strangest magic of all: technology. Watson has plenty of jokes poking fun at society and technology that are clever and charming. Their time on Earth also has a thriller element woven into it as the FBI are investigating them and determined to catch them, which puts them on a time table. Each part of the plot is coupled with humor, family, first love, and plenty of romantic complications.
Watson uses technology to explore the idea of magic through two perspectives. Pran and his friends see technology as this extraordinary creation because they've never seen a car or a microwave, while Oliver and his family see what Pran and his friends do as extraordinary. While dealing with heists and break outs, these teenagers are also dealing with matters of the heart rooted in Pran's feelings for Vitina and her insistence on those feelings being a side effect of her healing him. This leads him to explore his own feelings to figure out what's real, which is complicated when he figures out he has feelings for another boy. The romance is sweet and charming as they're still in a first love frame of mind and trying to understand what they're feeling. Fortress of Gold is a fun adventure with humor, action, romance, friendship, magic, and an unforgettable heist.
~ Liz Konkel, for Readers' Favorite

Fortress of Gold has it all: romance, deceit, jealousy, a villain, pizza, ghosts, alien bodies, a cat, a wounded warrior, counterfeit money, pizza, the FBI, spine-tingling adventure, and, oh yes, pizza! The author has topped his previous effort in this series, producing great fun for the reader.
~ Thomas Wm. Hamilton, author of the time-travel novel Time for Patriots, the fantasy and science fiction anthology The Mountain of Long Eyes, and several astronomy books; retired astronomy professor who worked on the Apollo project.
---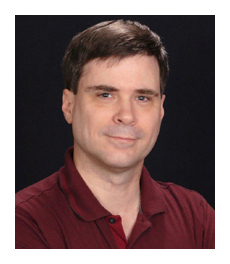 David Harten Watson is the author of the Magicians Gold series, including Magic Teacher's Son (a 2016 Eric Hoffer Award Winner (Honorable Mention in category Young Adult), 2016 First Horizon Award Finalist, 2016 Eric Hoffer Award Grand Prize Short List, and 2015 IAN Book of the Year Award Finalist) and its sequel, Fortress of Gold. He also wrote the science fiction novelette Millennium Bomber: a Story of Digital Revenge. David is a member of the U.S. Army Brotherhood of Tankers (USABOT) and the Mormon Church.
David has worked in a dizzying array of jobs including U.S. Army Armor officer at Fort Knox (experience that came in handy for his second novel, Fortress of Gold), camp counselor at Keewaydin Camps, teacher, tax preparer, car salesman, portrait photographer, track photographer, solar energy entrepreneur, and computer programmer.
Raised in snowy Buffalo, New York, David graduated from Calasanctius School (which closed shortly after his graduation, although he swears it wasn't his fault) and has degrees from Princeton, Canisius College, and Buffalo State College. He's the Organizer of the Woodbridge Science Fiction & Fantasy Writers Meetup, which he founded in 2008. In his free time, David enjoys kayaking and acting (he had a major role in the feature-length, no-budget horror movie Coordinates, filmed in New Jersey). He lives with his wife (a native of Ecuador, not Eldor), their two sons, and two cats in New Jersey, where in his day job he's an IT Specialist.
Copyright © 2011–2023. Pen-L Publishing. All rights reserved.