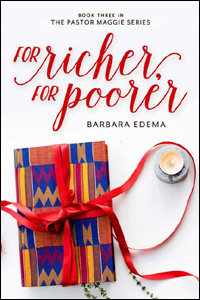 ISBN: 978-1-68313-129-8
~380 pages

$16.97 in softcover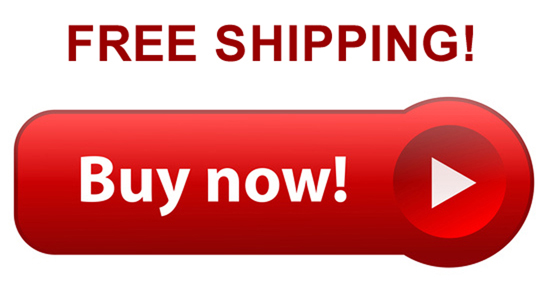 $4.97 in Kindle

Connect with Barbara
For Richer, For Poorer
~ Book Three in the Pastor Maggie Series ~
by Barbara Edema
What's Pastor Maggie up to now?
Life at Loving the Lord Community Church in Cherish, Michigan, isn't always easy. Learning how to adjust to a new marriage while caring for her many parishioners keeps Pastor Maggie on her toes. And things get more complicated as she prepares a group of church folks for the coming holidays—AND a two-week mission trip to Ghana, Africa.
While in Ghana, the expectations of good-hearted people clash with the real needs of the villagers. Maggie's frustration boils over and her plans begin to crumble. All her beliefs about rich and poor, success and failure, poverty and wealth, opened hearts and closed minds get turned upside down. The lessons learned in Bawjiase are life changing for all.
As her spiritual beliefs are threatened, Maggie knows her ministry will be transformed once she returns from her time in Ghana. But will she be the richer or the poorer for it?
Praise for For Richer, For Poorer, Book 3 in the Pastor Maggie Series:

"I couldn't put For Richer, For Poorer down. It is filled with many important life issues while keeping a fantastic work of fiction. The warmth of the characters and their interactions will make the reader smile and ponder many things. I turned the pages quickly wondering and anticipating what would happen next. The trials and triumphs of the people in Pastor Maggie's congregation is inspiring. This is a very fun story as well. It shows what the power of love can do. It is creative and extraordinarily imaginative. I think that readers will be very satisfied, inspired and happy with this third installment of the 'Pastor Maggie' series."
~ Jewel Hart, ChickLitCafe.com
Books by
Barbara Edema
The Pastor Maggie Series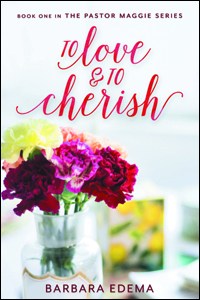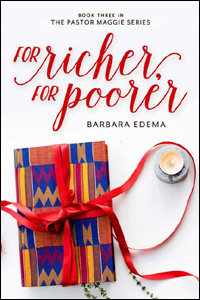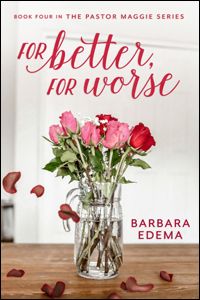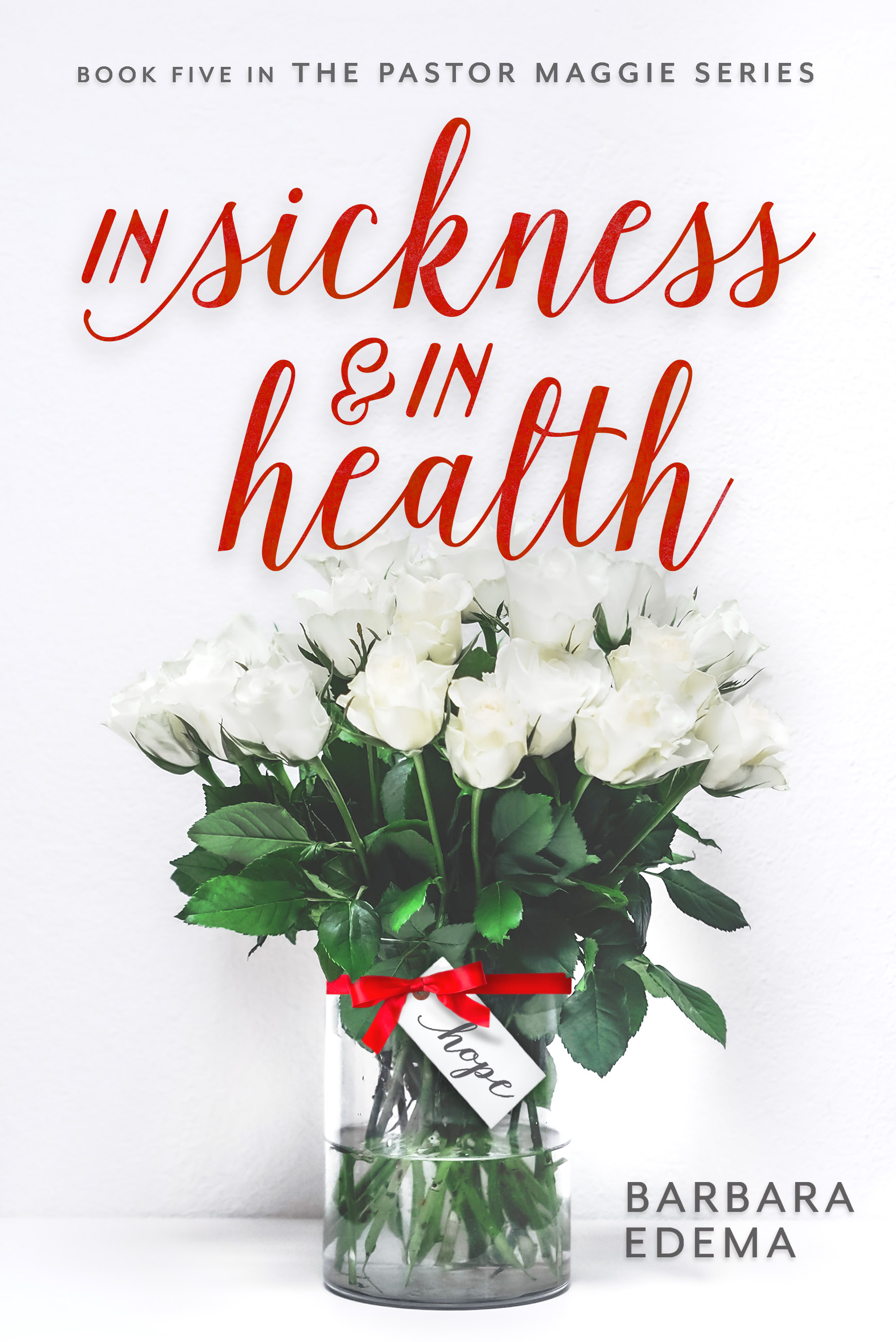 ---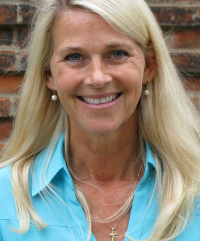 Barbara Edema has been a pastor for twenty-three years. That may sound astonishingly boring. However, she is a great deal of fun, with a colorful vocabulary used regularly out of the pulpit. Barb has spent decades caring for people during holy and unholy times. She has been at both her best and her worst during her growth as a minister.
Now she's writing about a fictional church based on her days serving many delightful and frustrating parishioners. Pastor Maggie is a young, impetuous, emotional, and clumsy—not to mention, a crazy cat lady—who steps into ministry full of Greek and Hebrew, but short on life experience. She learns quickly.
Barb lives in DeWitt, Michigan with her husband, Doug. She is the mother of Elise, Lauren, Alana, and Wesley. Like Maggie, Barb is a feline-loving female. Hence, she has collected an assortment of rescue kitties. Barb enjoys date nights with her husband, watching her children do great things in the world, a glass of good red wine, and making up stories about the fun and crazy times of life in the church.
Copyright © 2011–2018. Pen-L Publishing. All rights reserved.