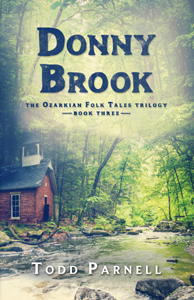 Who knows what lurks in the deep, dark corners of the Ozarks? Brutal murders, environmental disasters, corruption, and threats to their beloved and pristine Skunk Creek arise and upend the bucolic lives of the Hardlyvillains. How can they prevail?
Who knows what lurks in the deepest, darkest corners of the Ozarks? And what do a mammoth environmental disaster, a series of ghastly murders, corrupt state politics, a bedouin shivaree, crooked bankers, and Noodler's Anonymous have in common? Skunk Creek!
What do you get when you mix the beauty of nature, Big Pork, politics, and prejudice? Murder, lust, and greed overtake a small Ozarks community. Book One in the Ozarkian Tales Trilogy.
Pamela Foster's moving and hilarious true tale of running away to Panama with husband Jack, a former 1960s Marine with PTSD. Selling everything they own, they grab two suitcases, two 150-pound service dogs, and emigrate to the "tropical paradise" they expect to find. "Weaving charm, wit, and humor throughout."
This book may not cure all the world's problems, but it is certain to provide hours of stress-free entertainment and laugh-out-loud moments. Even the most irritable funny bones will be tickled with delight. Learn the joys of being an underachiever, the dangers of donut abuse, and more.